Liquid Facelift
Facelift…the dreaded "F- word" in plastic surgery…at least from a patient perspective. Most patients present suddenly notice signs of facial aging when in fact it has slowly been occurring over years. Where facelifts can lead to dramatic improvements in a patient's face, some patients just aren't ready to go under the knife. Whether for emotional, financial, or logistical reasons, some patients need an alternative to a surgical facelift. This is where a Liquid Facelift is an ideal option. Liquid facelift is not a medical term, but it means using fillers and botox to rejuvenate the face. The tradeoff for how long the results last is easy when you consider the cost difference, the lack of downtime, and the lack of surgical or anesthesia risks. When done correctly, precise injections into the face can dramatically improve the contours and bring balance to the face, without the risks of surgery. Dr. Dadvand is a Beverly Hills and Los Angeles expert in injectable fillers and botox. Dr. Dadvand will develop a tailored plan for you and personally performs all of the injections himself.
What Does a Liquid Facelift Consist of?
Now every patient will have different needs and goals for their face. However, an example of what can be achieved from hairline to chin can consist of:
Botox: To smooth out forehead lines, scowl lines, and crows feet
Voluma or Restylane-Lyft: To lift the cheekbones giving a more youthful contour
Restylane: To address the tear troughs, the hollow areas under the eyes
Juvederm Ultra, Ultra Plus, Defyne, Refyne, Vollure: Corrects the Nasolabial, or smile, lines
Volbella or Restylane Silk: To smooth out those upper lip lines
Volbella, Restylane Silk or Juvederm Ultra: To plump those lips
Vollure or Restylane Defyne/Refyne: For those marionette lines
Radiesse, Voluma, Restylane Lyft: To contour the jawline and chin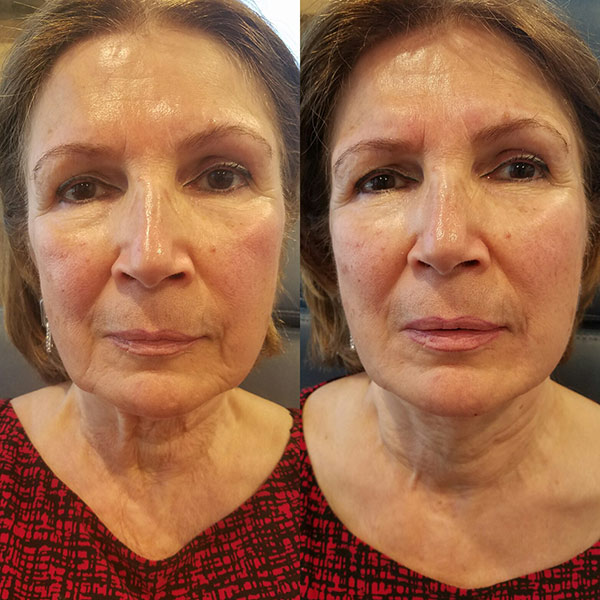 What to Expect With Your Liquid Facelift Session
After discussing your goals with Dr. Dadvand, he will carefully evaluate your face and give his recommendations. Topical numbing cream will then be applied to the areas to be injected. All the fillers that Dr. Dadvand uses also contain lidocaine, an anesthetic, making the treatment relatively painless. The entire procedure takes about 30 to 60 minutes depending on how many areas are being treated, and results are seen immediately. There is some swelling that resolves within 1 to 3 days.
Why Choose Dr. Dadvand?
As a double board-certified plastic surgeon, Dr. Dadvand has performed thousands of injections for his patients in Los Angeles and Beverly Hills.
Dr. Dadvand believes in natural augmentation and rejuvenation. Many people worry about being over injected or looking fake. You will never leave the office looking silly or overdone. This is because Dr. Dadvand, with his fine arts background and years of experience, will give you the natural fullness you desire. Dr. Dadvand's techniques that he has developed include:
Customized treatment plan to your facial anatomy
180 Degree Method: Injecting from multiple angles and directions to achieve the smoothest look
Slow, meticulous injecting technique to minimize bruising
Using his fine arts background and extensive knowledge of facial anatomy to make sure the face is three dimensionally as symmetric as possible
Dr. Dadvand's number one priority is the patient's best interest. The many patient testimonials demonstrate that he provides a specialized treatment plan with each patient to meet their individual goals. Whatever the reason you are dissatisfied with your face, Dr. Babak Dadvand can help. Dr. Dadvand is considered one of the best injectors in the Beverly Hills and Los Angeles area. He believes in working closely with his patients to achieve their goals.