Chin Augmentation in Los Angeles
A chin that is small for a person's face can really cause an imbalance in their facial features. Some of the physical signs that most people with "weak" chins have are lower lip strain, downward turn to the corners of their mouths, as well as a tendency to have their mouths open when in resting position. Another very important relationship is that between the nose and the chin. A "weak" chin can, from the profile, make the nose look disproportionately large for the face. This is something I look for whenever I am doing a rhinoplasty consultation.
So, what are the options to correct this feature? In certain select cases, genioplasty, where the bones of the jaw are advanced forward, up, and or down, is the best treatment. This is reserved for cases where a significant advancement needs to be done or when the distance between the lower lip and bottom of the chin needs to be lengthened or shortened.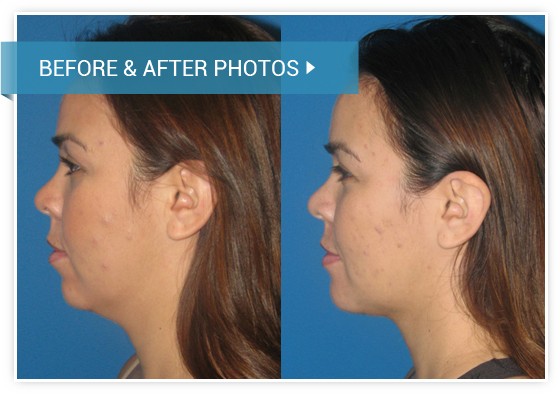 For the vast majority of patients, a chin implant will suffice to give them a more defined chin and balancing out their facial features. The chin implants I use most often are silicone implants. These are solid implants but are very malleable. They come in different sizes and I usually custom shave them in the operating room to match my patient's facial structure. The incision is either through the mouth or from under the chin, and they both heal fine. After the surgery, most patients will have some soreness in their chin as well as some swelling. In addition to this, most patients will have temporary numbness in their lower lip and chin area. This is in part to the swelling that is causing pressure on the mental nerve. As the swelling subsides so does the numbness.
Chin augmentation is a powerful yet subtle way of bringing balance and better harmony to the face. It is a procedure that I commonly perform in both men and women with an excellent satisfaction rate.
To learn more about chin augmentation surgery and to view before and after pictures visit my website at www.drdadvandplasticsurgery.com.