Facelift in Los Angeles
The first signs of aging typically appear on the face. The smile lines get deeper, the jowls become more prominent, more wrinkles appear, and the skin gets looser. These changes are accelerated by sun exposure.
Natural rejuvenation must be the goal of any procedure. This is nowhere more important than in performing facelifts. Long gone are the days of pulling as tight as possible. Tighter is not better, and the "done look" must be avoided. Patients should demand and expect a natural change.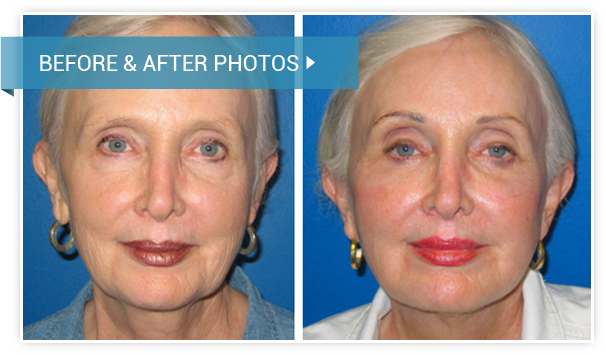 Dr. Dadvand performs a volumetric facelift where a combination of lifting and selective facial fat grafting improves the features of a more youthful face.   The facelift incision comes down along the ear, then behind the ear cartilage. The facelift incision continues to go around the earlobe and then behind the ear where it ends along the posterior hairline. The skin is lifted and the underlying SMAS (superficial musculoaponeurotic system) is tightened. Another small incision is made on the underside of the chin and the fat is reduced. The neck muscles are tightened and the excess skin is then reduced. The result is a more youthful face and neck.  Dr. Dadvand's facelift procedure is performed under general anesthesia and may be combined with other facial procedures such as browlifts or blepharoplasty to complete the rejuvenation.  Typically Dr. Dadvand's facelift procedure takes four to six hours, and an overnight stay in an aftercare facility is recommended.
Following your facelift surgery, it is recommended to sleep with two-three pillows behind your head to aid in swelling reduction in addition to taking the medications prescribed by Dr. Dadvand.
Contact the office of Dr. Babak Dadvand, where his friendly and courteous staff will schedule a consultation for you.