Best Candidates for a Mini-Tummy Tuck
Posted on Friday, October 4th, 2013 by Dr. Babak Dadvand
As a plastic surgeon who specializes in tummy tucks, I frequently get asked by patients whether they are candidates for a mini-tummy tuck. To answer this question I typically discuss the difference between a full tummy tuck and a mini tummy tuck. The main difference between the two is that in a mini tummy tuck the surgery is limited to the area below the umbilicus, or belly button. The "mini" in mini tummy tuck does not refer necessarily to the length of the incision, which may come as a surprise to some.
The ideal candidate for a mini tummy tuck has a bulge in only the lower part of their abdomen with relatively flat abdomen above the belly button. Also, their skin is typically not loose in the upper part of their abdomen. A patient who is a candidate for a full tummy tuck as a bulge that is present both below and above the belly button and/or has loose skin both above and below their belly button. To understand this more, here are examples of two patients, the first one being a candidate for a mini tummy tuck and the second one a candidate for a full tummy tuck.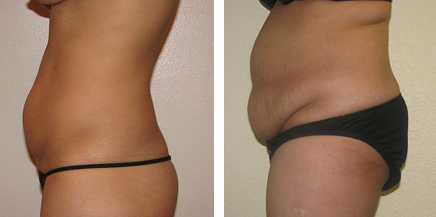 In the first patient you can see that her bulge is limited to the lower half of her abdomen and she has no excess skin in the upper part. In the second patient it is clear that she has a bulge both above and below her belly button as well as loose skin in the entire abdomen. Doing a full tummy tuck on the first patient would be excessive and leave her with a high incision, while doing a mini tummy tuck on the second patient would not address her upper abdomen and lead to a poor result.
To learn more about abdominoplasty surgery and to see before and after pictures visit my website at drdadvandplasticsurgery.com.
This entry was posted in Abdominoplasty, Plastic Surgery, Tummy Tuck. Bookmark the permalink.