Gynecomastia Incision Healing
Posted on Friday, August 30th, 2013 by admin
One of the most common questions and concerns during a gynecomastia consultation revolves around the incision. For most males with glandular gynecomastia, some sort of excision is necessary because liposuction alone will not remove this rubbery tissue. Typically the incision I use to remove this firm breast tissue is an inferior peri-areolar incision.
If you think of the areola as a clock, the incision is placed between 4 and 8 o'clock. These incisions, in my experience, heal exceptionally well. I have never had to do a scar revision of any of my own incisions. There are two main reasons why these incisions heal well. The first reason is that the incision is being placed in a junction of color change. The incision is camouflaged between the darker areolar color and the lighter skin color. The second reason the incision heals so well is that there with the removal of the underlying breast tissue, there is no more tension pushing out on the incision.
Below are a few examples of before and after very close up photos of this incision (ranging from 4 months -1 year post surgery). Not only are the incisions almost imperceptible, but also note that the areola is slightly darker and less puffy appearing in the after photos.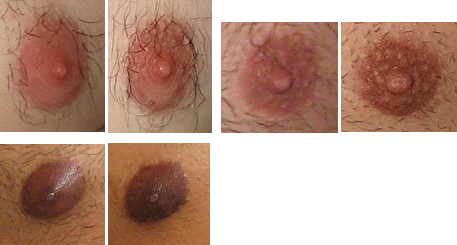 To learn more about gynecomastia surgery and to see before and after pictures visit my website at drdadvandplasticsurgery.com.
This entry was posted in Gynecomastia. Bookmark the permalink.